Looking back at 5 years of business retreats
on Tue, 06/18/2019 - 14:51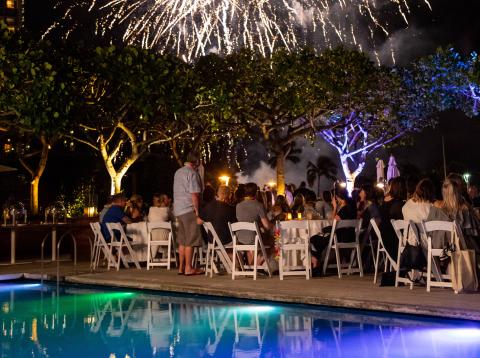 Zac de Silva shares his favourite memories of Nurture as we celebrate 5 years of events
My favourite memory in five years of retreats was at our very first event. Graham Henry, glass of wine (or "Ribena") in hand, was addressing 120 people sitting poolside in the moonlight, and I looked around at the laughing crowd and realised that we'd actually got this idea off the ground! Who'd have thought that a random idea to go hang in Fiji with a handful of our Business Changing clients would turn into Nurture Change and lead into other Nurture retreats?!
And now here we are, celebrating our 5th anniversary of Nurture Change with 962 Nurture alumni. It's a good opportunity to look back and reflect.
I always come away with a journal packed full of world-class, impactful lessons from the speakers but my best learning so far has been from the charismatic, full-of-beans Murray Thom. He shared, "This year's work determines next year's success". It's not always an easy lesson to swallow, especially in particularly challenging years, but it always reminds me that what I'm doing now WILL matter next year and to always keep an eye on the quality. It's especially true of Nurture events - our reputation is only as good as our last event.
Of course, there have been so many mistakes made along the way. The best failure was trying get a music awards weekend in Fiji off the ground which quickly taught us that you are best to stick to your knitting. This was a slightly painful but powerful lesson for us to learn - since then, we have only launched events that help our business community get better at business, performance and wellness.
There have been a few tear-jerker moments - JK speaking so candidly and powerfully on mental health will forever live with me, and so many of our alumni.
There's been too many funny moments to share, but I completely loved our charity event at last year's Nurture Change in Hawaii where heavyweight boxing champion of the world Joseph Parker took on our very first Nurture Change speaker, Curtis Palmer, in the final of our rock-paper-scissors tournament. To have 200 people get up from their seat and rush forward to watch this final live and cheer on their favourite was a once-in-a-lifetime moment. The electric feeling in the crowd as we crowned Joe the champion of the world was something that will live with me forever. My other favourite memory was when Ted (Graham Henry) made me explain to the entire Nurture Change crowd how Sip and I got engaged (by text, during the All Blacks / Tonga RWC 2015 game). Not something I'd usually do and not something I'll ever forget!
Five years of amazing memories and lessons and so many more to come with our three Nurture events this year and beyond! Are you joining us this year?!